To reduce the water and energy consumption needed for irrigation, while at the same time limiting the use of synthetic chemicals.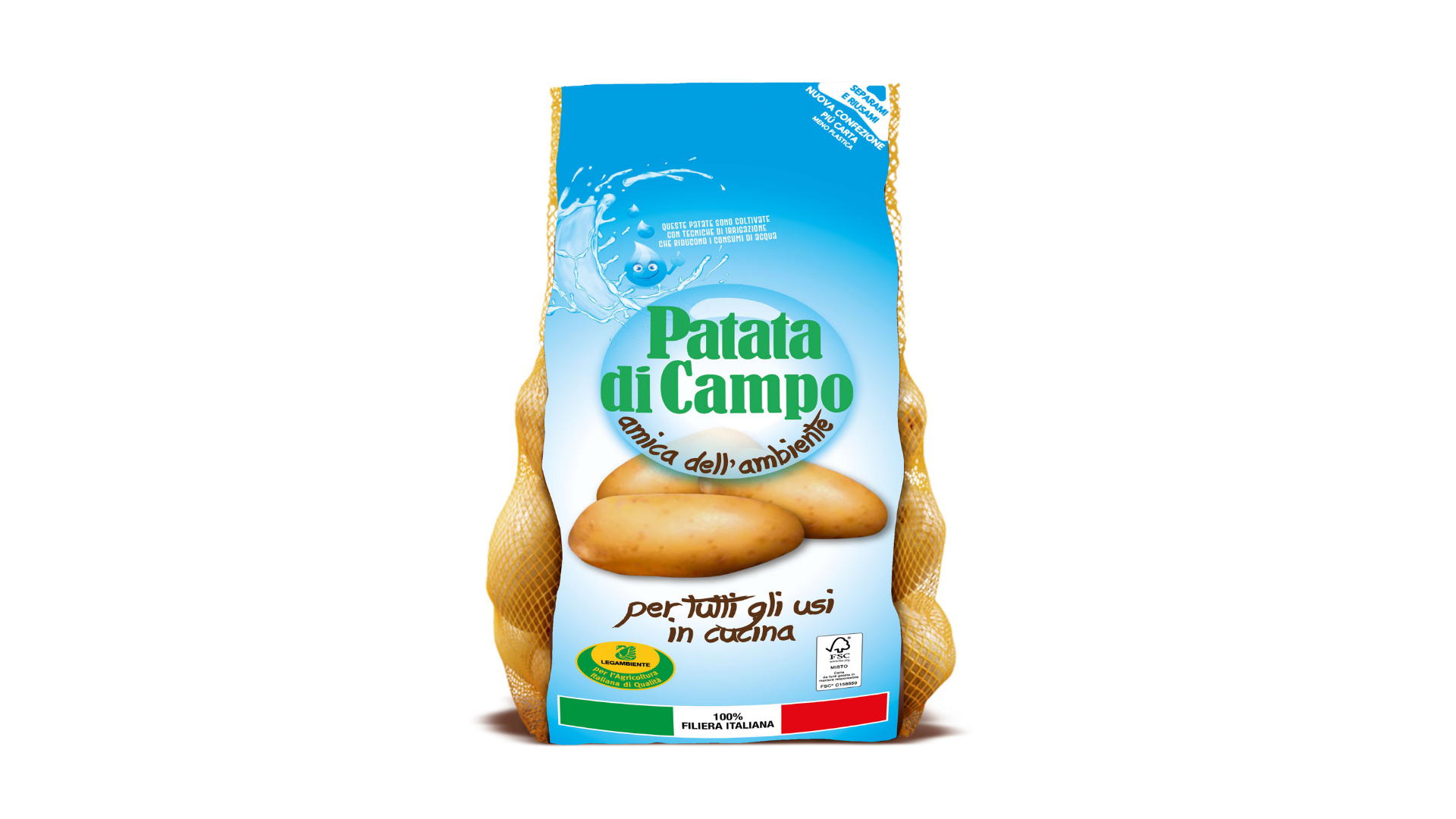 The Patata di Campo-Amica dell'Ambiente project was set up in 2013 with these goals in mind, the result of a collaboration between Romagnoli F.lli S.p.A. and Legambiente for High-Quality Italian Agriculture, which has seen the number of hectares involved increase by 126% in seven years.
Patata di Campo-Amica dell'ambiente, a supply chain of high-quality potatoes, are grown using low-pressure and high-efficiency irrigation systems, which help reduce water consumption by 30%, bringing the amount needed from 4,000 cubic metres per hectare to under 3,000. It is the result of a field experiment launched with a test to compare two similar plots of land that use the same basic farming and mechanical methods, but are irrigated with different systems – one high-pressure and one low-pressure and high-efficiency in the municipalities of Budrio (province of Bologna) and Monistirolo (province of Ferrara). The Patata di Campo-Amica dell'ambiente supply chain now involves 30 producers in Emilia-Romagna, Veneto, Lazio and Abruzzo, which grow some of the oldest varieties such as Agata and Colomba, along with more recent ones like Monique and Constance, and other "Next-Generation" potatoes such as Levante and Twister, which are naturally tolerant to downy mildew.
"Out of all natural disasters, drought is the main cause of lost agricultural production, which is responsible for 82% of damage. A lack of water in the fields particularly damages less developed countries, with 37 billion dollars' worth of damage*. Over three billion people around the world live in agricultural areas affected by high or extremely high levels of water resource shortages. Furthermore, over the past twenty years, the world's fresh water reserves have fallen by over 20%**", explained Giulio Romagnoli, our CEO. "These figures underline how we urgently need to tackle the challenge of water resources to ensure global food security and nutrition. We are currently living in a crucial decade, when the time for action is now to achieve the sustainable development goals set by the UN's 2030 Agenda. Producing more and better products, guaranteeing the protection of natural resources and biodiversity, and ensuring the economic sustainability of everyone involved in the supply chain are the ambitious goals that must be achieved thanks to a development vision which can keep all aspects of sustainability together".
In addition to being effective in terms of saving water, the guidelines behind Patata di Campo-Amica dell'ambiente are also rewarding for improving production yields, thanks to a decrease in production waste and the achievement of potatoes of a more consistent size. Low-pressure and high-efficiency irrigation also helps reduce fossil fuel consumption by over 70% and therefore cut CO2 emissions.
"For us, being responsible means making a solid commitment to researching into and applying innovations that can effectively meet the various requirements of sustainability", continued Mr. Romagnoli. "We do this by developing new and more efficient irrigation and growing techniques, starting from innovations into varieties and supporting producers in implementing these innovations at their own farms".
Again in order to protect natural resources, in 2013, we fitted our new plant in Molinella (province of Bologna) with both a water and sewage plant that helps recycle and reuse the water used in processing, and a solar power system that helps meet over 50% of the plant's energy needs.
*FAO 2021 report.
**The State of Food and Agriculture 2020 (SOFA), FAO.