After the freezing temperatures at the beginning of January and the saline winds at the end of February, potato production throughout the Syracuse region experienced varying levels of success.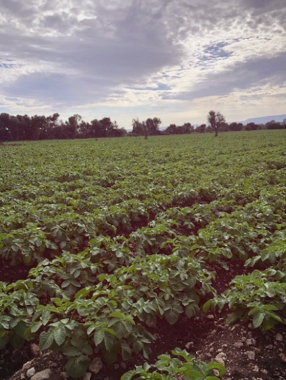 For the farms located closest to the coastline, the saline wind caused damage in various areas. The worst damage was found in the areas closest to the sea, where, due to its burning effect, some of the plants completely dried out. This will directly affect product quality and availability, which shall remain relatively scarce up until Easter.
However, the situation is different for farms that were planted between the end of October and the end of November, which were left unscathed from the damage caused in January and February. These shall therefore enjoy a regular level of production and the quality of these products is expected to be excellent, even if there will be fewer than the previous harvest, whose yields reached an estimated 30-35,000 kg per hectare. For these crops, harvesting will begin from 18/20 March, and will be in full swing towards the end of March and the beginning of April.
From the end of April and throughout the whole of May, we will see the usual increase in yields per hectare, which may allow the supply to come into line with the demand, with prices settling and stabilising according to profit figures.