"From field research, a new line of 'resilient' potatoes that adapts to climate change and withstands diseases without any chemical residues. For agriculture that increasingly respects the soil and the environment".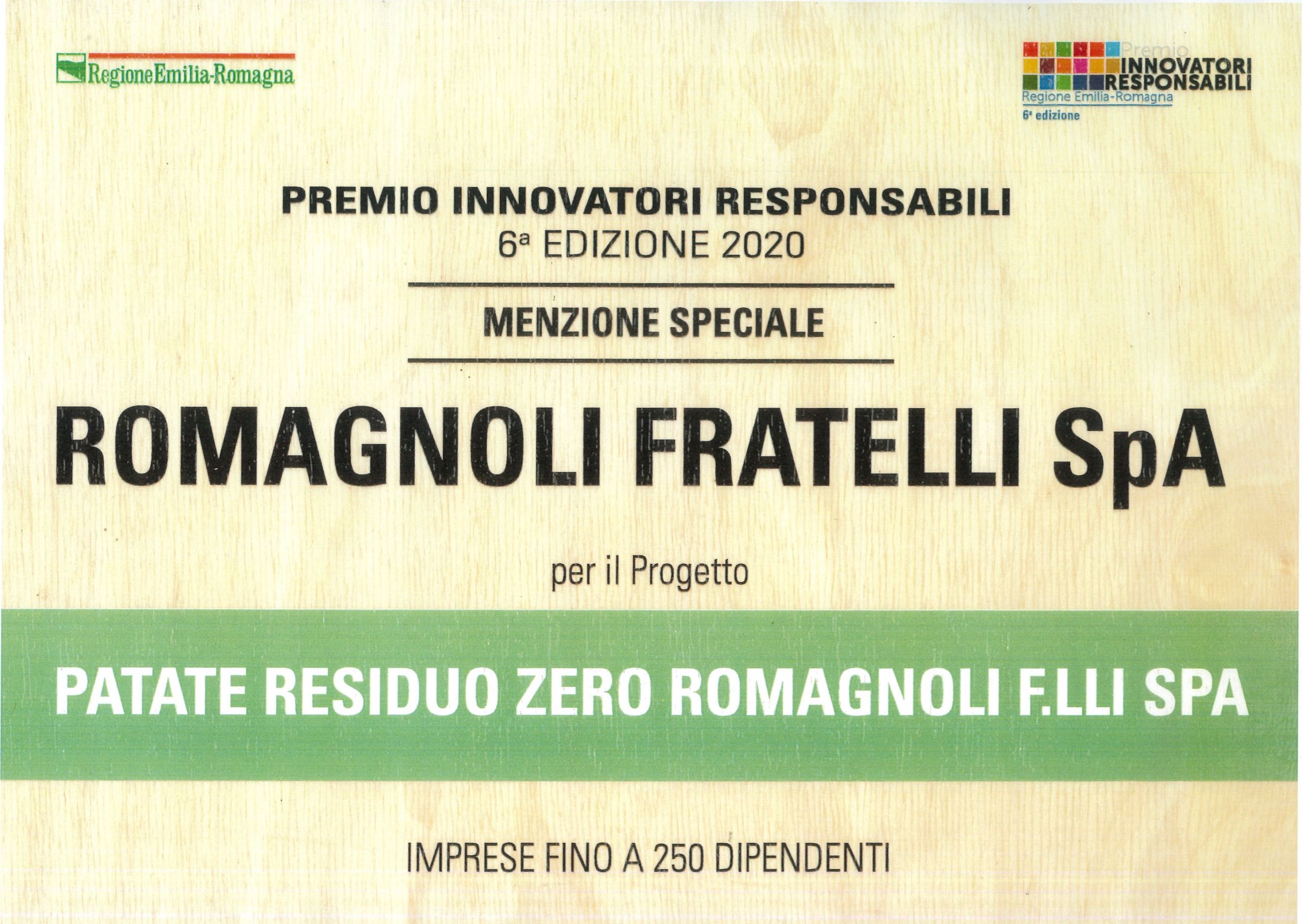 This was the reason why the Region of Emilia-Romagna gave a special mention to Romagnoli F.lli Spa's "Residue-Free Potatoes" project, at the sixth edition of the Responsible Innovators Awards, an initiative that rewards projects which help implement the 17 Agenda 2030 goals for sustainable development.
"We are proud to get this mention as it recognises and rewards the goal of the 'Residue-Free Potatoes' project, i.e. to promote a responsible agricultural model, which combines economic, environmental and social sustainability", explained Giulio Romagnoli, the CEO of Romagnoli F.lli Spa. "It is further confirmation that our research and innovation is heading in the right direction, meeting the sustainability goals set by the 2030 Agenda which have called all subjects – both public and private – to take action".
Thanks to a research path conducted with the scientific guidance of the Department of Innovation in Biology, Agri-food and Forest Systems (DIBAF) at Tuscia University, and together with Legambiente, the company has created a new generation of potato varieties resistant to downy mildew, the main fungal disease that affects the crop. Continuing with these results, a Residue-Free technical crop protection line has been produced, which has helped create an end product free from any pesticide residues and grown using coded and repeatable farming practices in all areas of Italy: it is an opportunity for the entire Italian potato sector to help with sustainability, soil protection and reducing the environmental impact.
The "Residue-Free Potatoes" project helps achieve two of the UN's 2030 Agenda Sustainable Development Goals: goal 2 "Zero hunger" (End hunger, achieve food security and improved nutrition and promote sustainable agriculture) and goal 12 "Responsible consumption and production".
*Chemical residues legally permitted under the limits of analytical determination (0.01 ppm) and residues of plant protection substances authorised for use in organic farming (pursuant to Annex II of EC Reg. 889/2008), up to a maximum of 50% of the Maximum Residue Limit.