All the versatility of bruschetta, without the bread! But how? By using sweet potato toast, a simple, original recipe.
Our suggestion is with creamy avocado sauce and chickpeas, to mark World Pulses Day, but you can experiment with creating other variations, such as using a cheese-based sauce, vegetable hummus, or any other ingredients you like.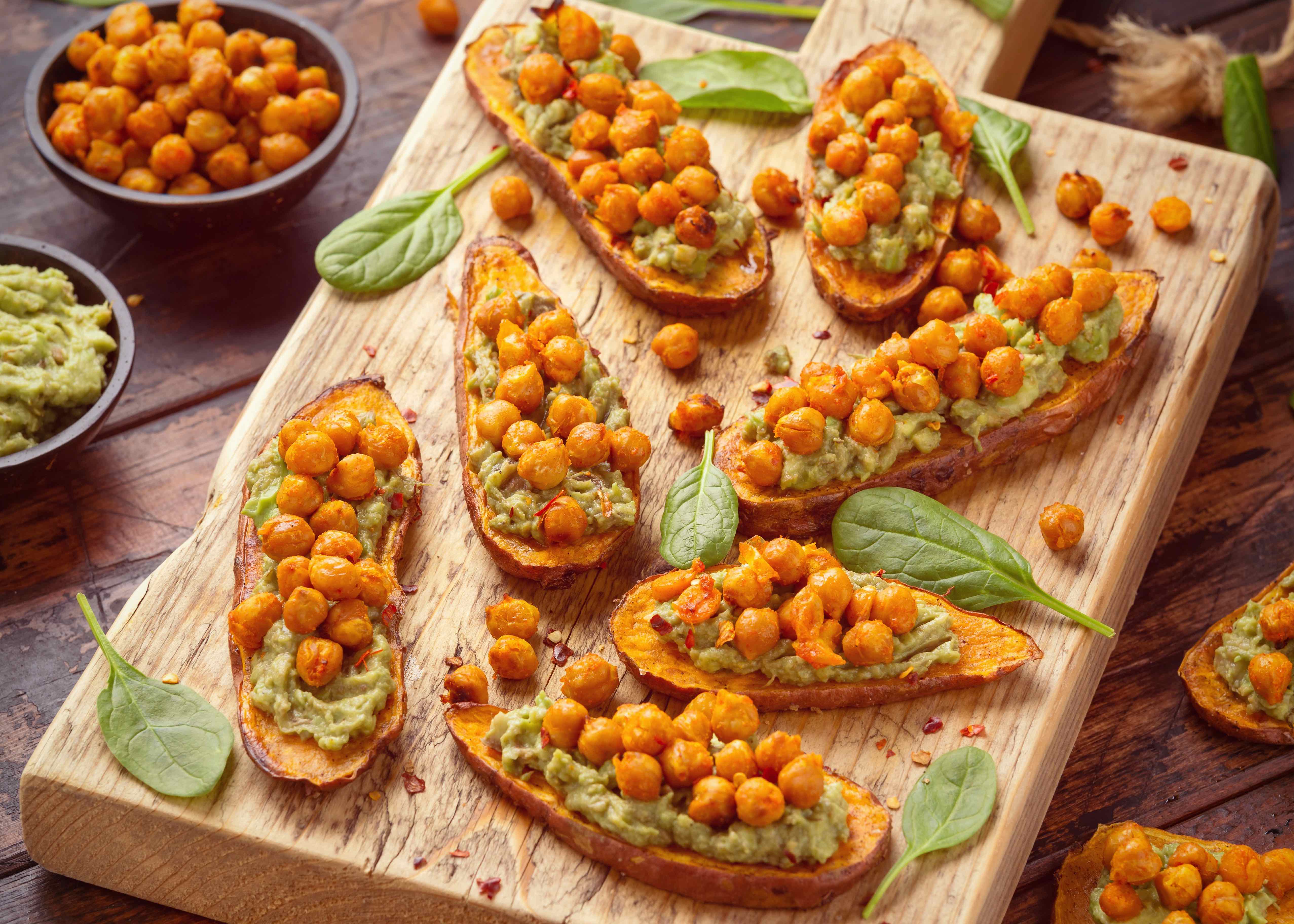 Ingredients for 4 people:
Sweet potatoes, 2 large
Avocado, 2
Dried chickpeas, 300 g
Peeled tomatoes, 200 g
Garlic, 1 clove
Fresh basil, a few leaves
Rosemary, to taste
Extra-virgin olive oil, to taste
Salt, ½ teaspoon
Pepper, to taste

Preparation
Soak the chickpeas in plenty of water for at least 12 hours, drain, rinse well, and boil in salted water for 60-70 minutes (make sure they are soft enough when the time is up). Fry the garlic in a couple of tablespoons of extra-virgin olive oil, add the crushed peeled tomatoes, the fresh basil and the chopped rosemary, mix well, then add the cooked chickpeas. Add a couple cups of hot water, season with salt, and leave to cook for another 20 minutes.
Now start preparing the sweet potatoes. Wash them and carefully clean the skin with a vegetable brush. Dry them, then cut them lengthwise into slices roughly 1 centimetre thick. Place the slices on a greased or lined baking sheet, season with a pinch of salt and drizzle with extra-virgin olive oil. Cook in a preheated oven at 200° for about 20-25 minutes. When they are soft, put them on a serving dish and leave them to cool.
Meanwhile, prepare the avocado sauce. Chop the avocados in half, remove the stone, and carefully remove the flesh from the skin with a knife or a teaspoon. Blend the flesh with a pinch of salt, pepper, and a drizzle of extra-virgin olive oil, until you have a smooth, creamy mixture. Place two spoonfuls of the avocado sauce onto each slice of sweet potato, add the chickpeas, and serve. If you want to add a little heat, you can crumble some chilli flakes onto the slices.
Image by DronG from Shutterstock