Easter lunch should start with a special dish: potato canapés with salmon and asparagus. It is a delicious, original recipe that you can also reinvent in a vegetarian version by swapping the salmon for your favourite vegetables.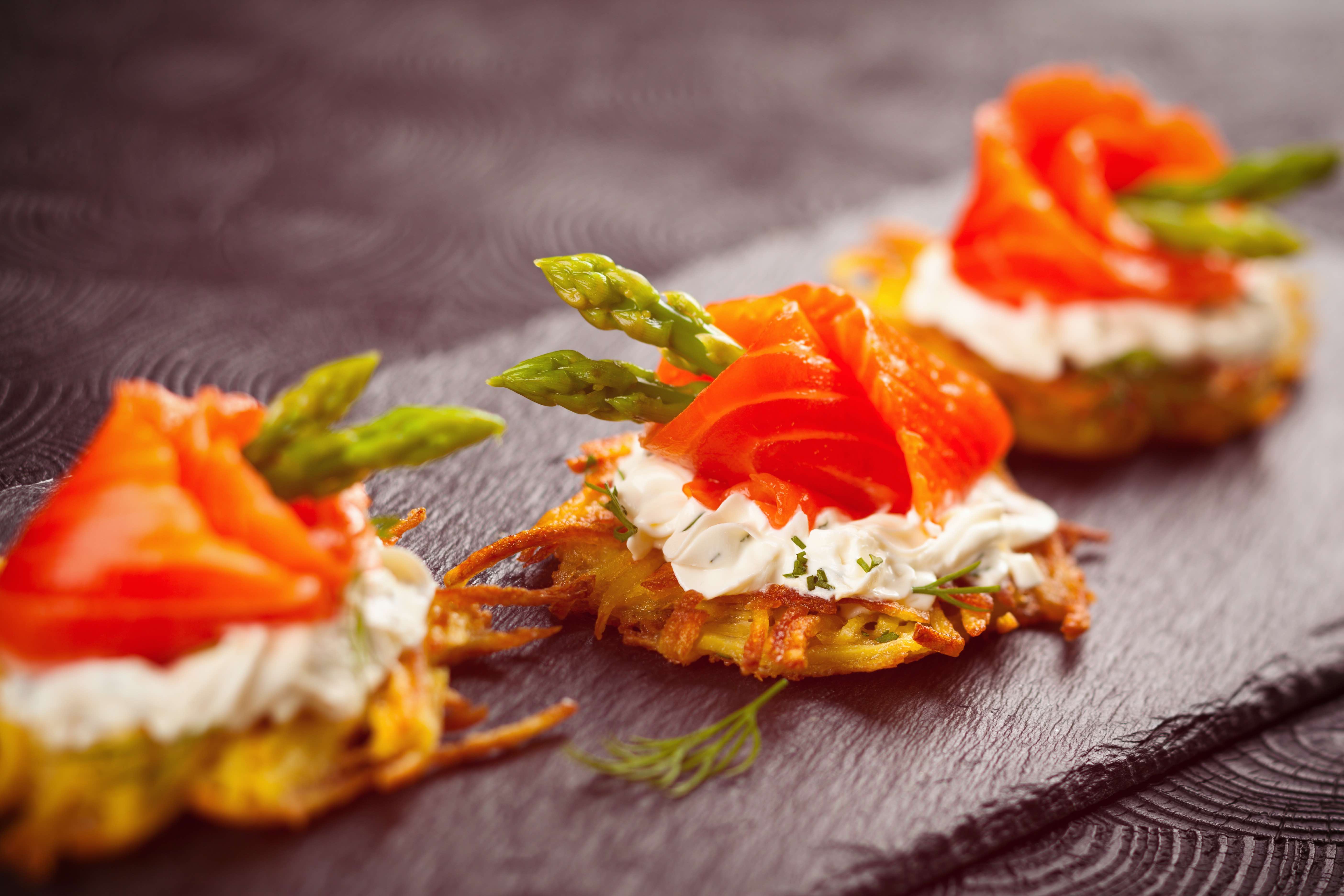 Ingredients for 4 people
Yellow potatoes, 300 g
Eggs, 1
Grated cheese, 50 g
Breadcrumbs, 1 tablespoon
Asparagus, 200 g
Slices of smoked salmon, 200 g
Fresh spreadable cheese, 100 g
Extra virgin olive oil, 4 tablespoons
Salt, 2 pinches
Fresh parsley, to taste
Preparation
Wash the potatoes, peel them and grate them with a large-holed grater into a big bowl. Add the grated cheese, the egg, the breadcrumbs, the chopped parsley and the salt. Mix thoroughly until you get a compact mixture, and add a few more breadcrumbs if necessary. Using a tablespoon, make round canapés about 1 cm thick. Cook them in a non-stick pan with a drizzle of oil for 5-6 minutes on each side. When they are golden brown, put them on a sheet of paper towel and leave them to cool down.
In the meantime, wash the asparagus, remove the tough part and boil the more tender, delicious tips in salted water for 5 minutes, then leave them to cool down completely. Put the potato canapés onto a serving tray, add a tablespoon of spreadable cheese (you can use a piping bag if you prefer), shape the slices of salmon into little roses and put one on each canapé, finally add the asparagus tips.
Image by Kolpakova Svetlana from Shutterstock