The Christmas festivities are coming up and some of us have begun to decorate the home to create a warm, magical atmosphere. To decorate your Christmas tree, this year, choose original, eco-sustainable decorations that you can make yourself. Here are a few ideas.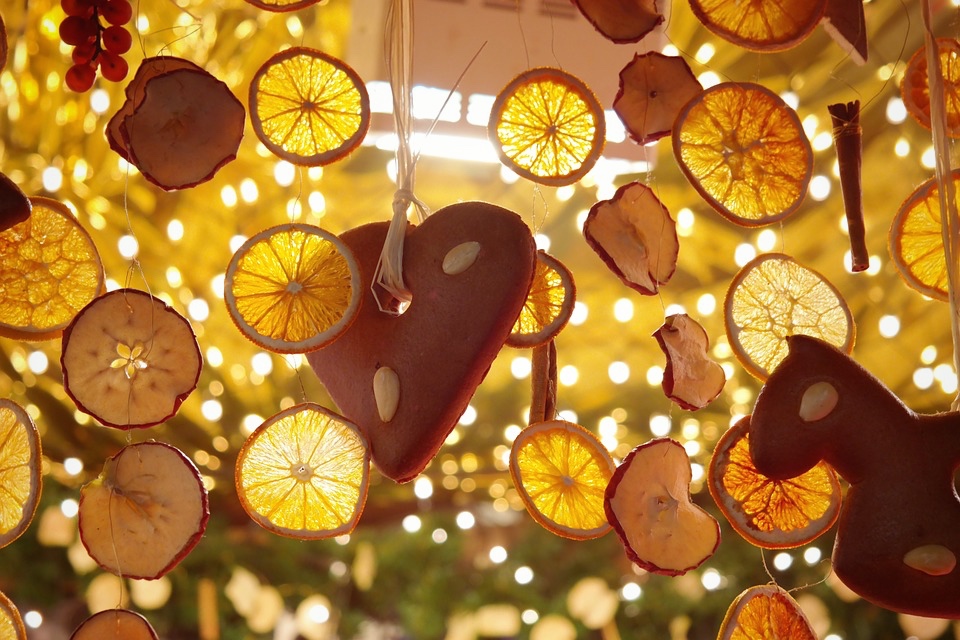 Citrus fruit garlands. Cut an orange and some mandarins into thin slices and dry them in an oven at 60°C for about three hours. Leave them to cool down completely. Thread a little piece of string, as long as you like, through each slice to make a decorative citrus fruit garland.
Cinnamon sticks. Use two beige paper ribbons to attach the ends of the cinnamon sticks into groups of three. Wrap a red ribbon several times around the sticks halfway down and create a loop to hang your creations on your Christmas tree.
Pine cone tree. Use white watercolours to decorate a small pine cone, recreating the effect of snow. When the colour has completely dried, attach the base of the pine cone with hot glue onto a small jar to give the idea of a mini Christmas tree. Decorate the top with a little star made with cardboard, attach a little hook onto the back of the pine cone and hang up your tree.
Little cardboard stars. Cut out same size stars from sheets of cardboard in your favourite colour. Place them on top of each other in pairs and attach them with a glue stick. Using a wool needle, thread a piece of yarn 10 cm long into one of the points of the star and tie the ends so you can hang them up.
Biscuits. For an eco-sustainable yet delicious decoration, make biscuits with shortcrust pastry using Christmas moulds like little stars, hearts and trees, taking care to make a small hole at the top of each one before putting them in the oven. Once ready, leave them to cool down completely, thread a ribbon through each biscuit and use them to decorate your Christmas tree.