OUR HISTORY

The Romagnoli farm was founded last century in Castel D'Aiano, in the Bologna Apennines in the late 1920s.
Its founder, Natale Romagnoli, who had emigrated to the United States at a very young age, returned to Italy and invested in the farm, which he ran with his family. The land was perfect for growing potatoes, and over the years the farming know-how gained and the willingness to try new varieties imported from northern Europe made the food and seed potato markets grow. The farm offered them for sale to agricultural consortiums throughout Italy.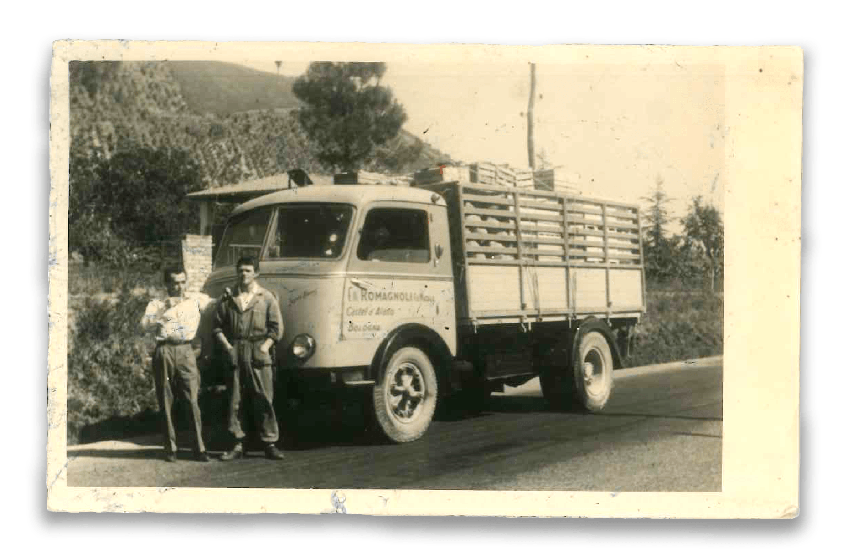 Giuseppe Romagnoli, the youngest, moved the headquarters to Bologna in the 1950s, expanding the business: using his initiative, he developed business ties in Italy and abroad to sell and export potatoes and various fruit and vegetables.

In the summer of 1960, the company Romagnoli F.lli was formally established, continuing to operate in the sale of fruit and vegetables and specialising in the seed and ware potato sector, starting by selecting and researching into new varieties in collaboration with the Netherlands.
In the 1970s, Romagnoli F.lli was scaled up, employing numerous people and carrying out processing, sales and services in fruit and vegetables, while working with many farmers all across Italy.

The Company has specialized in potatoes since the '80s and '90s, with the identical strategy of partnership and building of long-term relations and value.
Romagnoli directly runs and coordinates production, invests in the chain, participates in and contributes to the success of interprofessional systems in the Emilia Romagna Region, and promotes organized systems to guarantee the improvement and adequate added value of potatoes.

The Company's headquarters collaborates with modern facilities that process, pack, and store agricultural products, including a state-of-the-art building opened in 2013 in Molinella (BO). It has strengthened its networks of employees and partner companies in various areas of Italy, Europe, and the world.
Romagnoli's close collaboration with partners in central and northern Europe has allowed it to know and anticipate new consumer trends on the potato market, which the Company then transfers to the production and modern distribution sector in the form of product and process innovations.

After over 60 years, the family's passion for potatoes is still the same and is being brought forward by the brothers, Giulio and Grazia Romagnoli.
Its close collaboration with its Italian and European partners helps it understand and anticipate new consumer trends with potatoes, which the company seeks to transfer to the production and modern distribution sector in the form of product and process innovations.