Our commitment to making our products eco-friendly, by taking action during the production phase as well as in processing and marketing, is an absolute priority.
In the growing cycle, we promote and manage chains of hundreds of hectares by means of integrated crop management procedures.
Potato growing is highly exposed to risks related to climate changes (prolonged drought periods and reduced availability of irrigation water). Therefore, we have implemented new and more efficient growing and irrigation techniques that achieve environmental sustainability objectives while also reducing risks for the Company.
TERRITORY, INNOVATION AND SUSTAINABLE WATER MANAGEMENT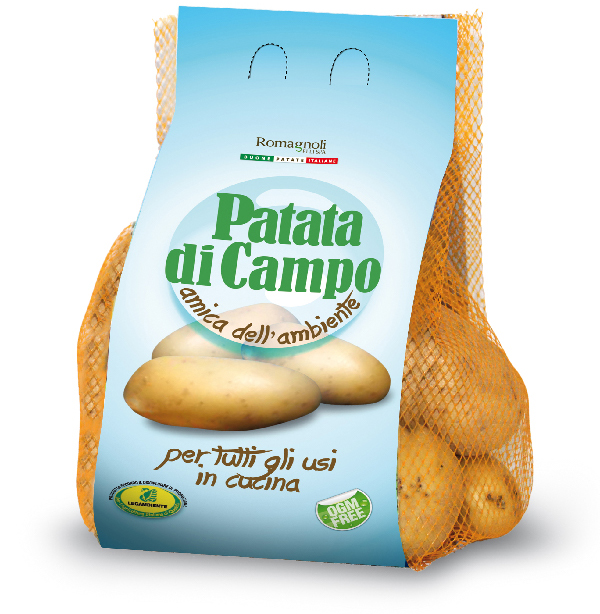 These are the keywords that launched our collaboration with Legambiente in 2012 in the context of its campaign for high-quality Italian agriculture. Starting in the 2013 growing season the "Field Potato" project launched a field experiment of low-pressure, high-efficiency irrigation systems. It was the first system to be applied to this crop, and produced the first chain of high-quality potatoes to be grown with drip irrigation systems.
For this project, Romagnoli involved some of the best farms in the province of Bologna, occupying about 200 hectares and yielding about 8.5 million kilos of potatoes.
In addition to respecting Regional rules for integrated crop management, the project also respected Legambiente's rules and reduced water consumption by 25%, from 4000 to less than 3000 m3/hectare while maintaining organoleptic quality and improving yield thanks to a smaller reject rate and more uniform grading.
The Company also invested in other innovation projects, such as the building of a 700 Kwhe photovoltaic system, by means of which it became energy self-sufficient, and a water purification plant that recycles the water used to process fruits and vegetables.
The collaboration now focusses on the application and diffusion of agroecological criteria and the promotion of local varieties and biodiversity.
The Company has implemented a series of technological and functional innovations in its processing facilities as well, all of which aim to minimise environmental impact. A 700 Kwhe photovoltaic system has made the Company energy self-sufficient, and a water purification plant recycles the water used to process fruits and vegetables.
We employ reusable containers for storage and are very attentive to logistical efficiency in order to reduce CO2 emissions during deliveries.