Attention to
the environment
Our commitment to making our products eco-friendly, by taking action during the production phase as well as in processing and marketing, is an absolute priority.
In the growing cycle, we promote and manage chains of hundreds of hectares by means of integrated crop management procedures.
Potato growing is highly exposed to the risks of climate change (i.e. periods of prolonged drought and less available irrigated water). Therefore, we have implemented new and more efficient growing and irrigation techniques that achieve environmental sustainability objectives while also reducing risks for the Company.
We have invested in process innovations that look to protect natural resources, such as our 700 Kwhe solar panel plant, which has enabled us to become self-sufficient in terms of our production plant's energy supply, while investments in the water and sewage plant at our processing facilities allow us to recycle and reuse water during fruit and vegetable processing.
We operate safe in the knowledge that innovation is now an essential part of protecting nature. Our commitment to making the production chain increasingly sustainable therefore involves offering consumers environmentally friendly products including in our choice of packaging. We also pay particular attention to the efficiency of our logistics chain to reduce CO2 emissions when delivering our products.
TERRITORY, INNOVATION AND SUSTAINABLE WATER MANAGEMENT: THE PATATA DI CAMPO - AMICA DELL'AMBIENTE PROJECT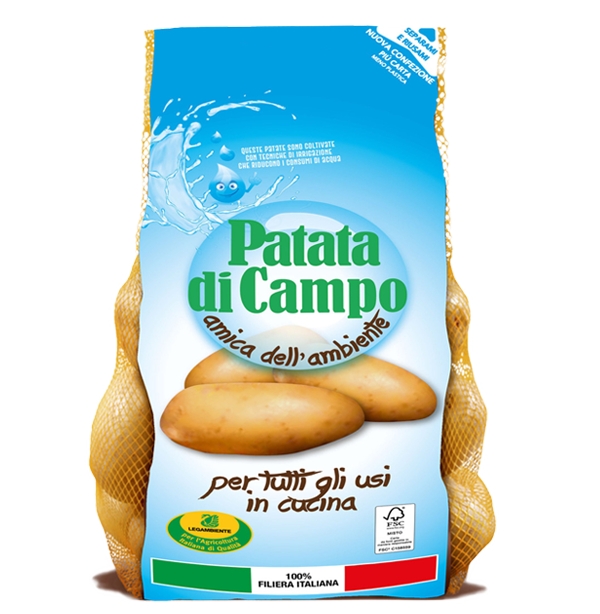 These key words marked the start of the collaboration with LAIQ (Legambiente for high-quality Italian agriculture), as part of the Legambiente campaign for high-quality Italian agriculture. Starting from the 2013 production campaign, experiments were launched in the field with the Patata di Campo - Amica dell'ambiente project with low-pressure and high-efficiency irrigation systems.
This project led to the first supply chain of high-quality potatoes grown using lower water input irrigation systems.
Romagnoli F.lli S.p.A. involved some of the best farms in the province of Bologna for the project. Producers who, while following the integrated pest management guidelines of the region of Emilia-Romagna, also adhered to the Legambiente guidelines, thereby reducing the water needed for cultivation by 30%, bringing the requirement from 4,000 cubic metres per hectare to under 3,000. All this while producing the same organoleptic qualities and improving production yields, thanks to less production waste and more consistent sizes.
The partnership with Legambiente led to other projects, with the goal of applying and spreading agroecology criteria and promoting local cultivars and biodiversity. Check out èVita Residue-Free Potatoes*.
*Chemical residues legally permitted under the limits of analytical determination (0.01 ppm) and residues of plant protection substances authorised for use in organic farming (pursuant to Annex II of EC Reg. 889/2008), up to a maximum of 50% of the Maximum Residue Limit.
SORMAPEEL: CHOOSING A NEW VERTBAG IN THE NAME OF THE ENVIRONMENT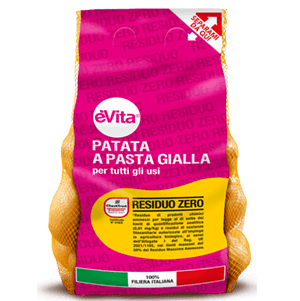 Starting from spring 2020, we have adopted the innovative Sormapeel packaging for our all-uses èVita, èVita New Potatoes and èVita Residue-Free ware potatoes. It is made from two materials, paper and polypropylene, that are easy to separate and recycle in paper and plastic waste collection respectively.
The new Sormapeel vertbag cuts plastic by 25% compared with the packs currently in use.
The new pack is also a great communication tool: once the plastic and paper parts have been separated, consumers will be able to read news and interesting facts about the company, its products and their use in the kitchen on the inside of the pack.
Choosing the Sormapeel vertbag is fully part of the company's process to make its supply chain production increasingly sustainable and to offer consumers environmentally friendly products also in terms of their packaging.